About Prof. Foluso Ayeni
Prof. Foluso Ayeni is a distinguished faculty member specializing in Information Systems and Decision Sciences at the Metropolitan State University, located in Minneapolis/St. Paul, Minnesota, USA. He is also a Visiting Professor at Capitol Technology University in Laurel, Maryland, USA, Makerere University Business School, Kampala, Uganda and Nigerian University of Technology & Management in Lagos, Nigeria. He also holds the position of membership and publicity secretary, at the Midwest Association for Information Systems USA. Prof. Ayeni is recognized as a member of the Pan-African Scientific Research Council, contributing to advancements in scientific research and also a member of the Educational Testing Service (ETS) graduate network. Additionally, Prof. Ayeni serves as the Vice-President of the Board of Trustees, at ICT University which has its foundation based in Louisiana, USA, with multiple campuses in developing countries. He also holds the role of Executive Secretary for Initiative and Partnerships at the African Society for ICTs (ASICTs). With a bachelor's and master's degree in management information systems from Covenant University, as well as a Ph.D. from Southern University and A&M College in Louisiana, USA, Prof. Ayeni is highly educated in his field.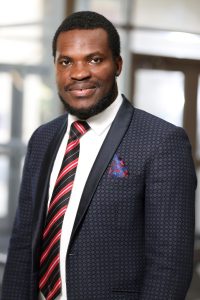 Prof. Ayeni possesses extensive experience in higher education teaching and research, both in Sub-Saharan Africa and the USA. Notably, he received the Best Graduate Oral Presentation award at the Louisiana Academy of Sciences Conference in March 2018. His dedication to community development earned him the honorary title of Honorary Mayor-President in the City of Baton Rouge that same year. In 2014, he secured a Research/Internship Grant from the Association of African Universities, targeting underserved communities. With exceptional communication, time management, writing, and creativity skills, Prof. Ayeni's research interests span across various areas, including Educational Technologies, Cybersecurity Education, Knowledge Management, Public Health Informatics, Operations Research, Business Intelligence, and Big Data Technology.
Currently, Prof. Ayeni serves as a Co-Principal Investigator for numerous Grant writing activities at ICITD, USA, and the ICT University Foundation, USA. He has been actively involved in pioneering and completing several developmental projects in Sub-Saharan Africa, such as the Louisiana Board of Regents' implementation of an Artifact and Theorizing E-Democracy and Citizen Participation in Sub-Saharan Africa, as well as the establishment of the Southern University Health Information Technology Laboratory. Prof. Ayeni is an alumnus of the World Bank Youth Summit from 2016 to 2018 and has participated in various international conferences. He has also published his research in reputable peer-reviewed journals and served as a resource person for the Harvard University Global Health Catalyst Conference in 2019.
Prof. Ayeni's expertise and contributions extend beyond academia, as he has served as a chair, co-chair, and technical committee member for several international conferences and workshops. His research work has been published in respected journals such as the International Journal of Computing and Informatics, IEEE Xplore Digital Library, Science Journal of Public Health, American Journal of Applied Mathematics, and Springer Lecture Notes in Computer Science, with more publications currently under review in reputable peer-reviewed journals. As an active member of prestigious organizations including the Institute of Electrical and Electronics Engineers (IEEE), American Educational Research Association (AERA), Louisiana Academy of Sciences (LAS), and National Center for Science Education (NCSE), Prof. Ayeni remains at the forefront of his field.